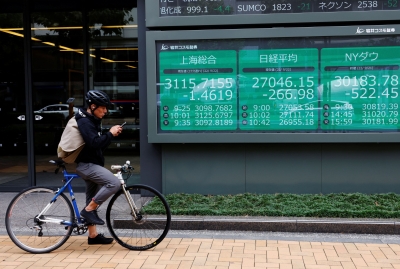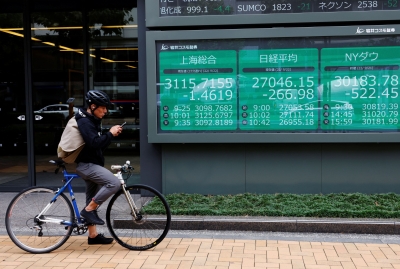 SINGAPORE, March 15 ― Asian equities rose sharply today, tracking a relief rally on Wall Street and as U inflation data delivered no nasty surprises, reinforcing hopes the Federal Reserve will likely go for a smaller rate hike when it meets next week.
Investors piled back into stocks in US markets overnight as fears about contagion in the banking sector following the collapse of Silicon Valley Bank (SVB) last week eased.
MSCI's broadest index of Asia-Pacific shares outside Japan was 1.44 per cent higher, having slid 1.7 per cent yesterday after SVB's collapse triggered heavy selling by investors in the last few trading sessions.
Australia's S&P/ASX 200 index rose 0.33 per cent in early trading, while Japan's Nikkei was mostly flat.
Chinese shares were 0.46 per cent higher, while Hong Kong's Hang Seng index rose 1.4 per cent.
Data on Wednesday showed China's industrial output in the first two months of 2023 rose 2.4 per cent from the year earlier, accelerating from a 1.3 per cent annual rise seen in December. The data slightly missed forecasts for a 2.6 per cent rise in a Reuters poll of analysts.
"It's clearly dominated by a relief rally rather than any inflation angst," said Robert Carnell, regional head of research, Asia Pacific at ING.
"I suppose what we've got is the banking sector in the US returning to stability, with depositors being given the fairly clear signal that they're not going to lose out."
Investors were also relieved after February's US inflation report yesterday showed consumer prices rising by 0.4 per cent, with a year-on-year gain of 6 per cent ― in line with analyst expectations, as there were worries that stronger than expected data might lead the Fed to go for jumbo-sized hikes to battle inflation.
As recently as last week, markets were braced for the return of large Fed hikes but the swift collapse of SVB has changed those expectations, with market pricing in an 80 per cent chance of a 25 basis point hike next week.
"It does feel like the 50 basis point move for this month's meeting that was speculated about especially after Powell's commentary to the Senate Banking Committee. Nobody's expecting that anymore," said Carnell.
US Treasury yields extended gains into Asian hours after sharp declines at the start of the week. The yield on 10-year Treasury notes was up 3.8 basis points to 3.674 per cent.
The two-year US Treasury yield, which typically moves in step with interest rate expectations, was up 6.9 basis points at 4.294 per cent, but far off last week's peak of 5.084 per cent.
In the currency market, the greenback held steady, with the dollar index, which measures the US currency against six rivals, at 103.64, with the euro unchanged at US$1.0732 (RM4.78).
The Japanese yen weakened 0.08 per cent to 134.30 per dollar, while sterling was last trading at US$1.2157, down 0.01 per cent on the day.
US crude rose 1.07 per cent to US$72.09 per barrel and Brent was at US$78.16, up 0.92 per cent on the day.
Gold prices were on edge, with spot gold adding 0.1 per cent to US$1,904.11 an ounce. ― Reuters