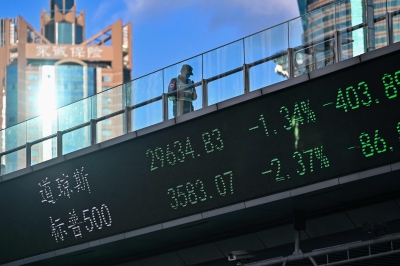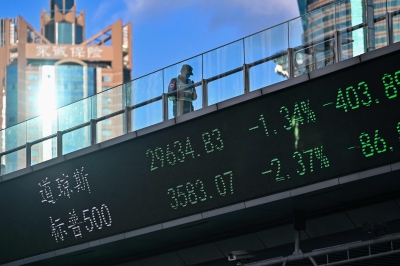 SINGAPORE, May 25 — Asian shares fell to a two-month low today, and the US dollar rose as the impasse in negotiations to raise the US debt ceiling kept investors wary of risky assets due to the hit the global economy will take if the US government defaults.
MSCI's broadest index of Asia-Pacific shares outside Japan fell 0.56 per cent to a two-month low of 505.35, with Australia's S&P/ASX 200 index was down 0.78 per cent. Japan's Nikkei remained an outlier for the region, gaining 0.32 per cent.
China shares eased 0.01 per cent while Hong Kong's Hang Seng index fell 1 per cent in early trading.
Negotiators for Democratic President Joe Biden and top congressional Republican Kevin McCarthy held what both sides called productive talks yesterday as they race to reach a deal to raise the debt ceiling.
But with no resolution in sight traders remained wary of a possible and catastrophic default with US Treasury Secretary Janet Yellen maintaining early June as a debt ceiling default deadline.
Credit ratings agency Fitch put the United States on watch for a possible downgrade late yesterday, further dampening sentiment.
"This development raises the spectre of a possible downgrade from the top-tier credit rating, fuelled by the persistent deadlock over the US debt ceiling and the looming threat of a US default," said Anderson Alves, a trader with ActivTrades.
"These concerns have stoked market volatility and instilled caution among rating agencies and investors."
Wall Street's main indexes ended lower overnight on debt-ceiling concerns.
E-mini futures for the S&P 500 rose 0.38 per cent, while Nasdaq futures spiked 1.4 per cent higher in early Asian hours after Nvidia Corp forecast second-quarter revenue more than 50 per cent above Wall Street estimates.
The semiconductor company said it was boosting supply to meet surging demand for its artificial-intelligence chips, which are used to power ChatGPT and many similar services.
Meanwhile, Federal Reserve officials "generally agreed" last month that the need for further interest rate increases "had become less certain," according to minutes of the May 2-3 meeting when the policy rate was raised a quarter-percentage-point hike to 5.00 per cent-5.25 per cent. Several officials said that hike might be the last.
Ray Attrill, head of FX strategy at National Australia Bank, said the minutes reflect the somewhat divided nature of much of the post-May meeting commentary from an array of Fed officials.
"Those advocating for the Fed to not be done at the current 5.0-5.25 per cent do seem open to at least a pause in June," Attrill said.
Markets though are now pricing in 33.6 per cent chance of a 25 basis point hike in June, compared with 28 per cent last week, according to CME FedWatch tool.
The yield on 10-year Treasury notes was up 2.9 basis points to 3.748 per cent, while the yield on the 30-year Treasury bondn was up 2.6 basis points to 3.992 per cent.
The two-year US Treasury yield, which typically moves in step with interest rate expectations, was up 5.3 basis points at 4.396 per cent.
Investors shunned debt at risk of not being repaid if the US Treasury Department runs out of cash. The yields on bills due on June 1 rose as high as 7.3710 per cent overnight.
In the currency market, the dollar index, which measures the US currency against six peers, rose 0.154 per cent, touching a fresh two-month peak of 104.01.
The yen weakened 0.11 per cent to 139.62 per dollar, while sterling was last trading at US$1.2347, down 0.14 per cent on the day.
US crude fell 0.35 per cent to US$74.08 per barrel and Brent was at US$78.19, down 0.22 per cent on the day. — Reuters