According to BigPay remittances are primarily conducted through banks which can be a challenged for unbanked communities. — SoyaCincau pic
By Alexander Wong
Wednesday, 22 Jun 2022 11:33 AM MYT
KUALA LUMPUR, June 22 — BigPay, a fintech company under Capital A, has launched a new remittances offering which allows its users to send money to a recipient in Indonesia and the Philippines who don't have a bank account.
Instead, the recipient can receive the money in cash at a participating physical partner of their choice.
According to BigPay remittances are primarily conducted through banks which can be a challenged for unbanked communities.
With the cash pick up facility, BigPay aims to bridge the technology gap and help families get access to their funds without the need of a bank account.
There are over 14,000 Cash Pickup points around the Philippines and Indonesia.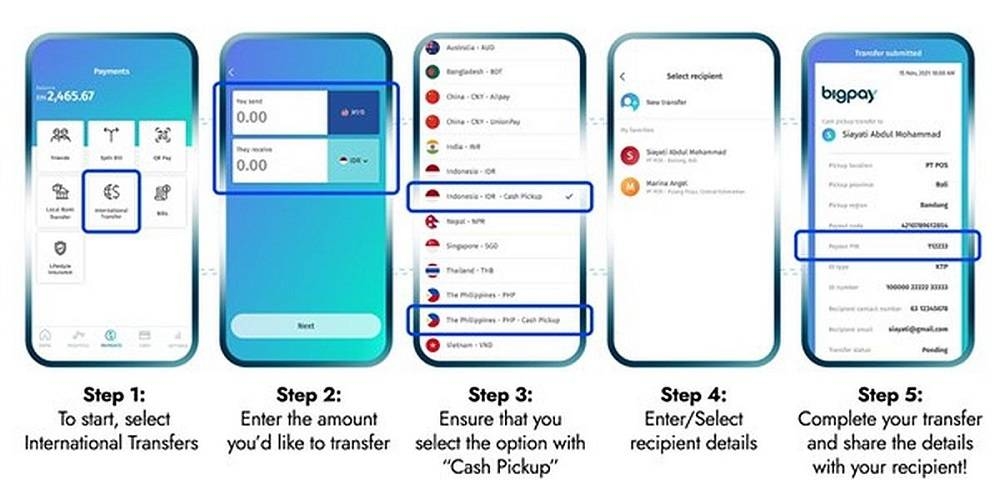 To send money using the Cash Pickup service, just go to Payments in the BigPay app and select "International Transfer".
Next, choose the amount you wish to send and chose Cash Pickup option for either Indonesia and the Philippines. You'll then need to enter the recipient details and complete transaction.
You'll have to share the Cash Pickup transaction details with your recipient which includes the payout code and payout pin. According to BigPay, recipients in Indonesia can receive the cash within 5 minutes and it will take up to 15 minutes in the Philippines.
In Indonesia, recipients can pick up their cash from any POS Indonesia location. In the Philippines, the cash pickup service is available at any BDO Cash Pickup, M Lhuillier, Cebuana Lhuillier, Palawan Pawnshop, LBC Express, SM Counters, BPI, Metrobank and RD Cash Padala Pawnshop locations.
Take note that this feature currently available for BigPay users in Malaysia and Singapore. For more info, you can check out BigPay's blogpost. — SoyaCincau BigPay CEO and Co-Founder Salim Dhanani said "At BigPay, we believe in a financially borderless world where everyone has equitable access to the products they need. As we expand our remittance pillar within BigPay, Cash Pickup services are a natural fit to further our mission.
"Our users across the region can now send money in a few clicks to almost anywhere in the Philippines and across Indonesia — and this opens up the product to many more people." — SoyaCincau