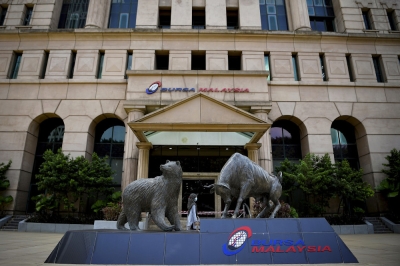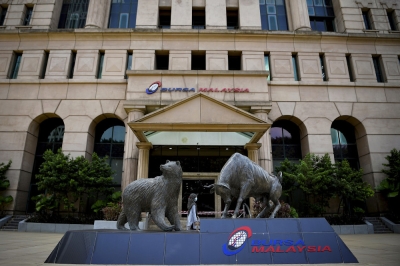 KUALA LUMPUR, May 25 — Late selling in plantation counters dragged Bursa Malaysia to end at its intraday low today in line with the mostly downbeat performance on regional peers.
At 5.00pm, the FTSE Bursa Malaysia KLCI (FBM KLCI) fell 7.14 points or 0.51 per cent to close at 1,402.48 compared with 1,409.62 at Wednesday's close.
The barometer index opened 0.68 points weaker at 1,408.94 this morning and moved to its highest level of 1,411.42 in the early morning session.
The broader market was also negative with decliners thumping advancers 556 to 293, while 409 counters were unchanged, 1,000 untraded and 14 others suspended.
Turnover declined to 2.36 billion units worth RM1.63 billion from 2.55 billion units worth RM1.70 billion on Wednesday.
Sime Darby Plantation and Kuala Lumpur Kepong were the top two contributors to the loss in the benchmark index, slipping 13.0 sen and 76.0 sen to RM4.28 and RM21.78, respectively, for a combined 2.83 points.
Rakuten Trade Sdn Bhd equity research vice-president Thong Pak Leng said the FBM KLCI closed lower in tandem with most key regional indices following yesterday's global sell-down.
"Investors are worried about the US economy and a possible default on US government debt causing negative sentiment around the world.
"On the domestic front, the FBM KLCI trended lower in the absence of fresh catalysts. Nonetheless, we are hopeful that bargain hunting activities will emerge, especially in banking stocks as we expect earnings from the sector to remain decent over the next few days (results announcement).
"We anticipate the FBM KLCI to move within the 1,400-1,410 range towards the weekend with immediate support at 1,400 and resistance at 1,440," he told Bernama.
Among other heavyweights, Petronas Chemicals added 2.0 sen to RM6.97, Tenaga Nasional increased 6.0 sen to RM9.58, Public Bank was 3.0 sen lower at RM3.89, CIMB declined 2.0 sen to RM4.96, while Maybank was flat at RM8.56.
As for the active counters, Velesto Energy shed 3.0 sen to 22.5 sen, Bahvest Resources eased half-a-sen to 18.5 sen, Parkson Holdings perked up 1.0 sen to 16.0 sen, Widad Group ticked up half-a-sen to 43.0 sen, and MSM Malaysia Holdings surged 22.0 sen to RM1.05.
On the index board, the FBM Emas Index dipped 56.07 points to 10,284.41, the FBMT 100 Index fell 53.73 points to 9,989.96, the FBM Emas Shariah Index declined 72.69 points to 10,644.10, the FBM 70 Index went down 84.24 points to 13,425.02, and the FBM ACE Index slid 3.61 points to 4,944.19.
Sector-wise, the Industrial Products and Services Index dropped 0.14 of-a-point to 164.14, the Plantation Index slipped 130.92 points to 6,805.75, the Energy Index lost 11.38 points to 818.76, and the Financial Services Index decreased 30.90 points to 15,318.43.
The Main Market volume fell to 1.47 billion units valued at RM1.40 billion from 1.71 billion units valued at RM1.50 billion on Wednesday.
Warrants turnover expanded to 332.16 million units worth RM46.03 million against 293.91 million units worth RM41.75 million yesterday.
The ACE Market volume improved to 553.75 million shares valued at RM178.96 million from 540.12 million shares valued at RM156.51 million previously.
Consumer products and services counters accounted for 389.02 million shares traded on the Main Market, industrial products and services (272.94 million); construction (37.67 million); technology (145.10 million); SPAC (nil); financial services (55.80 million); property (134.79 million); plantation (31.36 million); REITs (9.71 million), closed/fund (41,000); energy (215.15 million); healthcare (85.96 million); telecommunications and media (34.28 million); transportation and logistics (22.38 million); and utilities (35.41 million). — Bernama