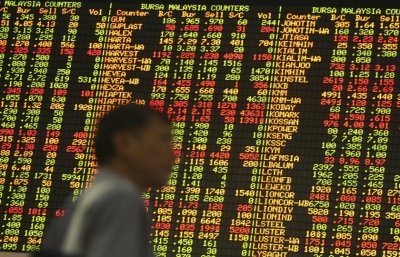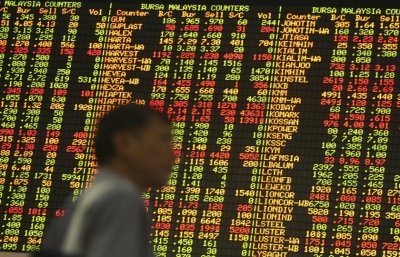 KUALA LUMPUR, March 15 ― Bursa Malaysia maintained its upward momentum to mid-afternoon, buoyed by persistent buying interest in selected heavyweights, led by financial services and utilities counters, a dealer said.
At 3pm, the FTSE Bursa Malaysia KLCI (FBM KLCI) was 10.89 points higher at 1,404.72 from yesterday's close of 1,393.83.
The key index opened 6.27 points better at 1,400.10.
Market breadth was positive with gainers leading decliners 543 to 263, while 380 counters were unchanged, 1,062 untraded and 10 others suspended.
Turnover amounted to 2.35 billion units worth RM1.47 billion.
Bursa Malaysia heavyweights Maybank, Petronas Chemicals and CIMB gained five sen each to RM8.39, RM7 and RM5.22, respectively.
Meanwhile, Public Bank added nine sen to RM3.97 and TNB perked up 15 sen to RM9.42.
Among the actives, ACE Market debutant Oppstar jumped RM1.80 to RM2.43, Hong Seng Consolidated and Vinvest Capital inched up half-a-sen to 15 sen and 23 sen, respectively, SMRT Holdings climbed 4.5 sen to 51 sen, and BSL Corp eased by half-a-sen to 4.5 sen.
On the index board, the FBM Emas Index put on 85.33 points to 10,267.24, the FBM 70 Index improved 114.44 points to 13,182.05, the FBMT 100 Index was 79.38 points higher at 9,958.15, the FBM Emas Shariah Index rose 74.31 points to 10,556.46, and the FBM ACE Index expanded 68.54 points to 5,245.42.
Sector-wise, the Financial Services Index garnered 128.85 points to 15,508.08, the Energy Index increased 15.66 points to 839.94, the Industrial Products and Services Index edged up 1.03 points to 169.56, and the Plantation Index bagged 36.23 points to 6,703.53. ― Bernama