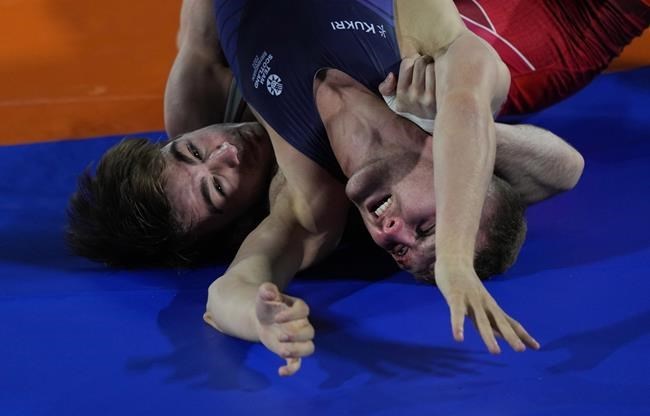 BIRMINGHAM, United Kingdom — Canada's divers and wrestlers have added eight more medals to its tally at the Commonwealth Games.
Diver Mia Vallee of Beaconsfield, Que., who won gold in the women's one-metre springboard, and freestyle wrestler Amar Dhesi of Surrey, B.C., who struck gold on the mat, had Canada's best results on Friday.
Vallee said that the key to her victory was ignoring the impressive field and focusing on her own performance.
"I think I've learned throughout the past year to really put (my competition) aside and just mostly dive for myself," said Vallee. "I think that's the best way I can put it. In competition that allows me to focus on myself and try and do my best."
Freestyle wrestlers Ana Godinez-Gonzalez of Surrey, B.C., Toronto's Lachlan McNeil and Linda Morais of Tecumseh, Ont., all earned silver on Friday and Montreal's Alex Moore and Hannah Taylor of Cornwall, P.E.I., each took bronze.
Synchronized divers Nathan Zsombor-Murray of Montreal and Rylan Wiens of Calgary added a silver in the men's 10-metre event.
Canada sits third in the medal table with 19 gold, 24 silver, and 24 bronze.
Vallee earned 291.85 points to take top prize in her event, besting Australia's Brittany Mae O'Brien (279.60) and England's Amy Elisabeth Rollinson (272.00).
Dhesi won his gold with a decisive 9-2 win over Pakistan's Zaman Anwar in the men's 125-kilogram final.
Godinez-Gonzalez dropped a 4-4 decision to India's Sakshi Malik in the final of the women's freestyle 62-kilogram final.
McNeil lost to India's Bajrang Punia 9-2 in the men's 65-kilogram final.
Morais settled for silver after losing to Nigeria's Blessing Oborududu 5-1 in the women's 68-kilogram final.
Taylor beat Kenya's Sophia Omutichio Ayieta 4-0 in the bronze-medal match of the women's 57-kilogram tournament.
Moore earned his bronze with a convincing 10-0 win over New Zealand's Matthew Oxenham in the bronze-medal match of the men's 86-kilogram event.
Wiens and Zsombor-Murray earned 413.85 points in the 10-metre synchro event behind England's Matthew Lee and Noah Oliver Williams (429.78) but ahead of Australia's Domonic Paul William Bedggood and Cassiel Emmanuel Rousseau (412.56).
This report by The Canadian Press was first published Aug. 5, 2022.
The Canadian Press