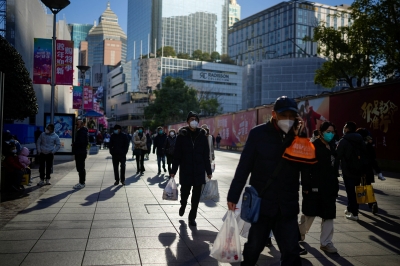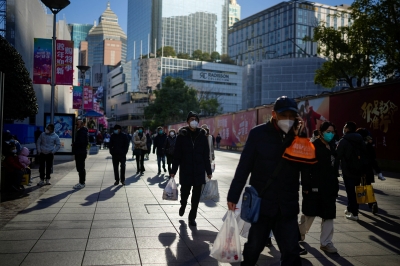 BEIJING, March 15 ― Chinese retail sales rebounded in January and February as Beijing abandoned its suffocating zero-Covid policy, reopening borders and ending mandatory quarantine, and the country celebrated the Lunar New Year holiday.
The 3.5 per cent growth, released by the National Bureau of Statistics, came in line with expectations and was much better than the 1.8 per cent drop suffered in December, indicating the world's number two economy was picking up after years of painful restrictions.
And with Beijing this week announcing it will resume issuing tourist visas, there is a hope for a further improvement this year.
China usually releases January and February economic data together to ensure they are not skewed by the long Chinese New Year holiday.
Fixed-asset investment also showed an improvement, rising 5.5 per cent in January-February ― beating forecasts of 4.5 per cent growth ― as the government poured billions of dollars into building new railways and industrial parks, NBS data showed.
However, industrial output expanded 2.4 per cent ― below the 2.6 per cent expected.
"Production and demand have improved significantly, and employment and prices are generally stable," the NBS said in a statement.
"The economy is showing signs of stabilisation and recovery."
China has set an economic growth target of "around five per cent" for 2023, one of the lowest in decades.
But Premier Li Qiang has warned that even this was "not easy" to achieve as a grinding property crisis continued and global demand slowed.
In a sign of the troubles facing the property sector, the NBS figures showed investment in real estate fell 5.7 per cent in January-February as it continues to feel the effects of a government crackdown to curb risky borrowing by developers.
The unemployment rate rose to 5.6 per cent in February, up 0.1 percentage points from the previous month, with that for 16- 24-year-olds at 18.1 per cent.
The government has warned that a global slowdown will hamper the country's recovery from pandemic-era damage.
China's exports for January and February fell 6.8 per cent compared to the year before, due to low global demand.
Zhiwei Zhang from Pinpoint Asset Management said: "The economic data released today confirmed the recovery in China was well on track. This is consistent with the strong credit growth released earlier." ― AFP