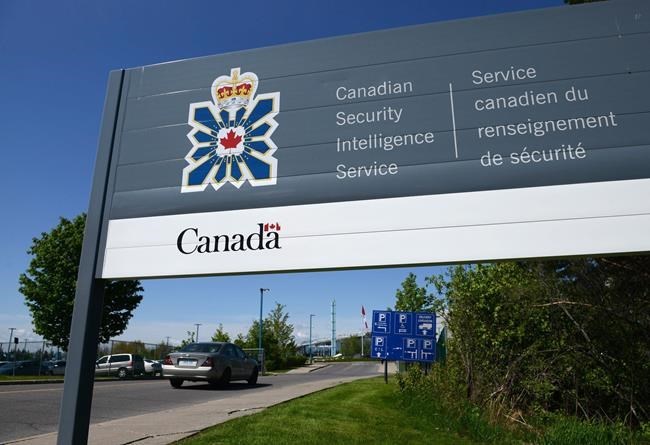 OTTAWA — A new book says Canadian Security Intelligence Service officers urged police in the U.K. not to reveal CSIS's recruitment of a man who allegedly helped smuggle three British teenagers into Syria to join the Islamic State of Iraq and the Levant.
In the book to be published Thursday, "The Secret History of the Five Eyes: The untold story of the shadowy international spy network, through its targets, traitors and spies," author Richard Kerbaj says that in early March 2015, two CSIS officers visited Richard Walton, then head of the counterterrorism command at London's Metropolitan Police Service.
Kerbaj's book says the Canadian officers told Walton that the accused smuggler, Mohammed al-Rashed, had been working as an agent for CSIS when arrested by Turkish authorities the previous month — a case that had not yet been made public.
The book says the Canadian intelligence officials were not meeting with Walton to offer an apology, but rather in the hope that any ongoing investigation into the teenagers' journey to Syria would not force CSIS to be questioned or held accountable.
Allegations about al-Rashed's involvement with Canadian intelligence made international headlines — and surfaced in the House of Commons — in mid-March 2015.
Asked about Kerbaj's book, Prime Minister Justin Trudeau said Wednesday that in a "particularly dangerous world," Canada's intelligence services must be creative and flexible in the fight against terrorism, but he also noted they are bound by strict protocols.
"Our intelligence services are subject to rigorous rules and principles that they need to abide by," he said.
The government will continue to ensure there is proper oversight and take "further steps" if needed, Trudeau added.
CSIS had no immediate response to questions about the book.
During an interrogation by Turkish intelligence officials, al-Rashed claimed that he had met a regional chief of ISIL while working at a hospital in Raqqa, Syria, the book says.
The chief wanted him to meet jihadists and "jihadi brides" arriving in Turkey from countries such as the United Kingdom and organize their travel arrangements over the border into Syria.
However, al-Rashed was desperate to begin a new life beyond Syria, where he was born, and had been trying to seek political asylum in Canada by submitting an application at the country's embassy in Jordan, the book says.
"There, Canadian intelligence representatives from CSIS had seen his asylum application as a gateway for his recruitment as an agent."
From then on, al-Rashed started documenting the details of people he had smuggled for ISIL by photographing their passports on the pretext that he required proof of their identification to buy their transport tickets for domestic travel, according to the book.
"He would then upload the passport images into his laptop and ultimately forward them to his CSIS handler at the embassy in Jordan."
Following his arrest, Turkish authorities searched his laptop and found a video clip he had filmed of the three British schoolgirls, along with images of maps for ISIL camps in Syria and pictures of passports for at least 20 people, Kerbaj writes.
"Aware that the Turkish authorities would likely leak information about al-Rashed's arrest to the media, the Canadians tried to get ahead of it to avoid any further embarrassment around the role CSIS had played in running him as an agent," the book says.
"And it was in that spirit of post-operational manoeuvring that the two CSIS officers had travelled from the Canadian High Commission in London to meet with Walton — before the arrest of their agent in Turkey had been made public."
The Canadians could not have done anything to stop the three teenagers from travelling into Syria, as by the time al-Rashed's handler had found out, the schoolgirls had already crossed the border into ISIL territory, Kerbaj writes.
The author says he was told by many intelligence officials that it made no operational sense for the British police to publicize Canada's involvement in the case because any verification would have reinforced ISIL's ongoing paranoia and compromised any chances of infiltrating it through new informants.
This report by The Canadian Press was first published Aug. 31, 2022.
— With a file from Marie Woolf.
Jim Bronskill, The Canadian Press