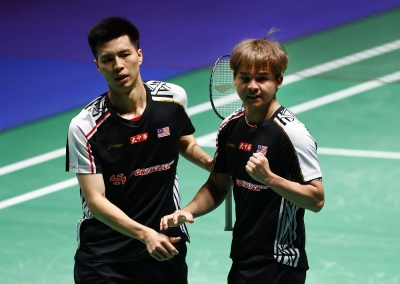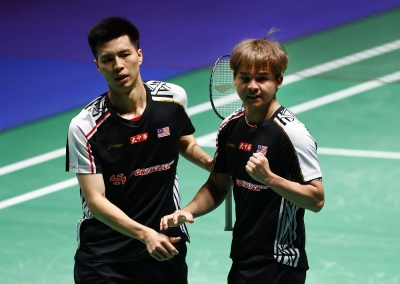 KUALA LUMPUR, March 15 — National men's professional doubles pair Teo Ee Yi-Ong Yew Sin produced an inspired performance to send 2020 Tokyo Olympic Games gold medallists Lee Yang-Wang Chi Lin packing in the first round of the 2023 All England Badminton Championships in Birmingham last night.
The eighth-seeded Malaysians had to slog for 57 minutes to dispose of the Taiwanese pair 12-21, 21-16, 21-18.
The reward for world number eight Ee Yi-Yew Sin is a second-round clash against defending champions Muhammad Shohubul Fikri-Bagas Maulana of Indonesia tomorrow.
Malaysian professional mixed doubles pair Tan Kian Meng-Lai Pei Jing also got off to a winning start when they downed Indonesians Rinov Rinaldy-Pitha Haningtyas Mentari 21-19, 21-18.
The sixth-seeded Kian Meng-Pei Jing will face world number 16 Yuki Kaneko-Misaki Matsutomo in the second round after the Japanese pair had sent Malaysia's Chen Tang Jie-Toh Ee Wei packing 21-19, 22-24, 21-17.
World number six Kian Meng-Pei Jing had better be wary, having fallen to the Japanese pair in the French Open last October.
Meanwhile, top national women's doubles pair Pearly Tan-M. Thinaah were shown a first-round exit after losing 13-21, 21-15, 15-21 to Japan's Mayu Matsumoto-Wakana Nagahara in 55 minutes. — Bernama