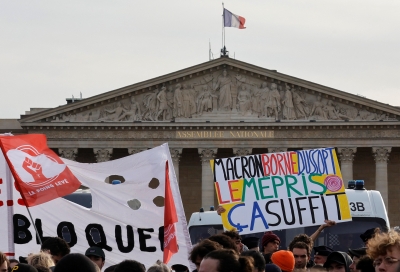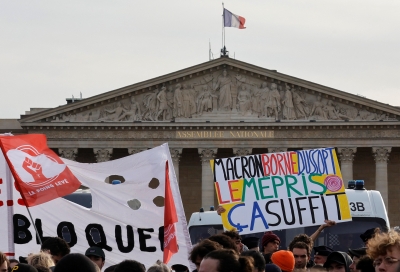 PARIS, March 19 — President Emanuel Macron faces a critical moment tomorrow when the National Assembly is due to vote on no-confidence motions filed after his government bypassed parliament on Thursday to push through an unpopular rise in the state pension age.
The move, which followed weeks of protests against the pension overhaul, triggered three nights of unrest and demonstrations in Paris and throughout the country, reminiscent of the Yellow Vest protests that erupted in late 2018 over high fuel prices.
However, while tomorrow's votes may put on display anger at Macron's government, they are unlikely to bring it down.
Opposition lawmakers filed two motions of no-confidence in parliament on Friday.
Centrist group Liot proposed a multiparty no-confidence motion, which was co-signed by the far-left Nupes alliance. Hours later, France's far-right National Rally party, which has 88 National Assembly members, also filed a no-confidence motion.
But even though Macron's party lost its absolute majority in the lower house in elections last year, there was little chance the multi-party motion would go through – unless a surprise alliance of lawmakers from all sides is formed, from the far-left to the far-right.
The leaders of the conservative Les Republicains (LR) party have ruled out such an alliance. None of them had sponsored the first no-confidence motion filed on Friday.
But the party still faced some pressure.
In the southern city of Nice, the political office of Eric Ciotti, the Les Republicains leader, was ransacked overnight and tags were left threatening riots if the motion was not supported.
"They want through violence to put pressure on my vote on Monday. I will never yield to the new disciples of the Terror," Ciotti wrote on Twitter.
Macron's overhaul raises the pension age by two years to 64, which the government says is essential to ensure the system does not go bust.
A broad alliance of France's main unions has said it would continue to mobilise to try to force a U-turn on the changes. A day of nationwide industrial action is scheduled for Thursday.
Philippe Martinez, the leader of the hard-left CGT labour union said on BFM television that he condemned violence but it was Macron's "responsibility if the level of anger is so high".
TotalEnergies' refineries and depots had 34 per cent of operational staff on strike this morning, a company spokesperson said.
Rolling strikes continued on the railways, while rubbish is piling up on the streets of Paris after refuse workers joined the action.
Finance Minister Bruno Le Maire told Le Parisien newspaper, commenting on prospects for tomorrow's votes, that "I think there will be no majority to bring down the government. But this will be a moment of truth".
"Is the pension reform worth bringing down the government and political disorder? The answer is clearly no. Everyone must take his responsibilities," he added. — Reuters