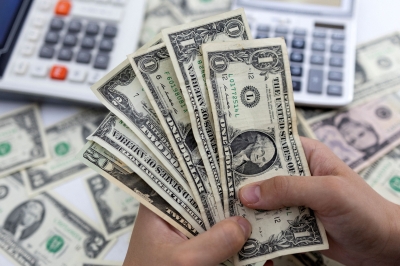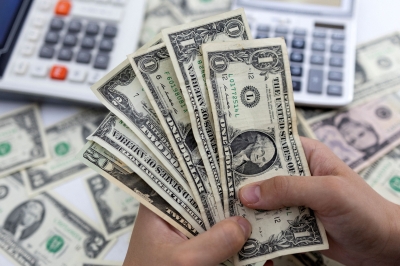 TOKYO, May 25 — The dollar pushed to a two-month high against the euro and a six-month peak versus the yen today, as a resilient US economy led traders to pare their bets on rate cuts this year.
The greenback has also benefited from demand for safe havens, paradoxically as a US debt ceiling impasse threatens a disastrous default as soon as June 1, when the Treasury has warned it would be unable to pay all its bills.
The dollar touched US$1.07425 (RM4.96) per euro early in the Asian session for the first time since March 24, and remained elevated to last trade at US$1.0748. The dollar also bought ¥139.66, a level last seen on November 30.
With only a week left until the "X-date" for a debt ceiling resolution, and a divided Congress also needing several days to pass legislation, investors are becoming increasingly jittery.
Fitch put the United States' "AAA" debt ratings on negative watch yesterday, adding to the sense of imminent crisis.
"The dollar has seen a good, solid move higher, and there's good reasons for it," said Tony Sycamore, an analyst at IG Markets, pointing particularly to haven demand amid the debt ceiling standoff, as well as mounting signs of slowdowns in China and Europe.
"I believe the dollar could be on the cusp of another 2 per cent move higher, and Fitch could be the trigger for it."
The US dollar index, which measures the currency against six major peers including the euro and yen, touched a two-month high of 104.01.
Sycamore said a sustained break above 104 could see the index test 106.
The latest sign of weakness out of Europe came from a worse-than-expected deterioration in German business confidence.
Meanwhile, the Chinese yuan renewed a six-month low by dropping to 7.0827 per dollar in the offshore market.
The Asian giant has seen a cascade of disappointing economic indicators, all pointing to dull consumer demand and suggesting a post-pandemic recovery has already run its course.
Australia's dollar has felt the impact of that China weakness acutely because of its close trade ties, edging to a fresh 6 ½-month low of US$0.6527.
The New Zealand dollar was still reeling from the central bank's shock dovish tilt on Wednesday, which triggered a 2.2 per cent slide. On Thursday, it pushed to the lowest since mid-November at US$0.6085.
The US economy's resilience in the face of the Federal Reserve's aggressive tightening campaign has trimmed expectations for rate cuts this year to just a quarter point in December, from as much as 75 basis points previously.
Money markets ramped back up the odds to about 1-in-3 for another quarter-point hike in June, with several Fed officials striking a hawkish posture recently with consumer inflation still running about twice the 2 per cent target.
"Whether we should hike or skip at the June meeting will depend on how the data come in over the next three weeks," Fed Governor Christopher Waller said on Wednesday at an event in California.
"I do not support stopping rate hikes unless we get clear evidence that inflation is moving down towards our 2 per cent objective." — Reuters