 NEW DELHI: In the era of SUVs, sedans are striving to make a comeback. As their sales and market share went down with the growing popularity of the SUVs, sedans are now undertaking a spirited fightback in the hunt for customers, and relevance.
After Skoda took a bet with the Slavia in the premium sedan market last year and Volkswagen with the Virtus, it is now the turn of Korean Hyundai to show its muscle with the new-gen Verna sedan.
The new Verna, which is a stylised version of its previous avatars, hits the market with an entry price of Rs 10.9 lakh (ex-showroom Delhi) for the base variant, and the top-end of the car costs Rs 17.4 lakh.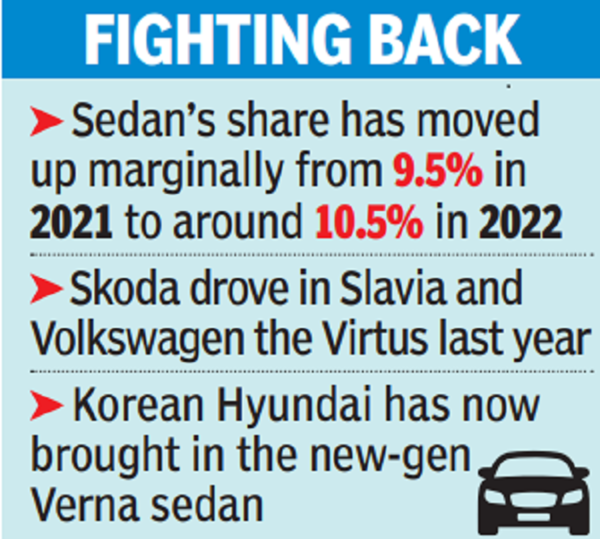 Petr Solc, brand director for Skoda in India, said that the Slavia has been able to generate credible inroads into the market, with a sizeable number of buyers coming in from the relatively-younger age groups. "The best part is that the good run for Slavia came in at a time when the SUVs had been dominating."
Hyundai is trying to add the muscle part to the car's positioning — perhaps to counter the bold stance of the SUVs — by calling the Verna as "ferocious". The vehicle promises new age features such as twin instrument-panel screens and a turbo petrol engine (1,500cc).
Hyundai India MD & CEO Unsoo Kim said that the company hopes to double the Verna's sales to 38,000 units this year against the 19,000 units that the previous generation sold in the past year.
Tarun Garg, COO of the company, said that sedans are attempting a comeback riding the new-found interest of car makers, and pointed out that their share had moved up marginally in the past year from 9.5% in 2021 to around 10.5% in 2022.
"And the best part is that the sedans are being preferred by the younger population. Our data for the Verna shows that over 40% sales of the previous model were to those aged below 30 years. This clearly shows that customers and the younger generation have clearly not written them off," Garg said.
Hyundai said that it has already got 8,000 bookings for the new model, and is hoping to attract more interest now that the price of the vehicle is out in the market.
Asked whether the company would have more sedans in its product plans, Kim said it would surely be the case. "We have invested Rs 1,000 crore for the development of the new Verna. We are confident that this will give us good dividends and will be appreciated by the market."