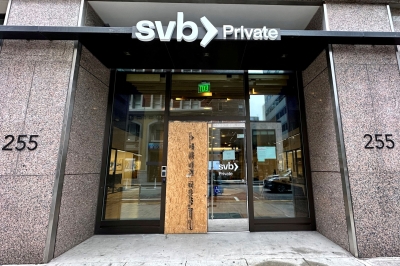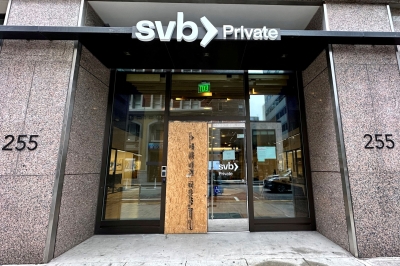 NEW YORK, March 15 ― Bruised US bank stocks regained some ground yesterday, as a sell-off sparked by Silicon Valley Bank's collapse gave way to bargain-hunting by investors hopeful that efforts to shore up confidence would avert a wider financial crisis.
Regulatory scrutiny of SVB's demise last week ― the largest US bank failure since the 2008 financial crisis ― intensified with the US Justice Department opening a probe, a source familiar with the matter said. The Securities and Exchange Commission has launched a parallel investigation, according to the Wall Street Journal.
SVB's shutdown on Friday ― followed two days later by the collapse of New York-based Signature Bank ― has roiled global markets, forced US President Joe Biden to rush out assurances that the financial system is safe and prompted emergency US measures giving banks access to more funding.
Fears of possible contagion have eased ― but not been fully dispelled.
An indicator of credit risk among euro zone banks hit its highest level since mid-July on Monday, while ratings agency Moody's cut its outlook on the US banking system to negative from stable citing a "rapid deterioration in the operating environment."
The VIX volatility index, Wall Street's "fear gauge," neared six-month highs overnight. But US regional bank shares ― which have been hit hardest so far ― nudged up on hopes the worst of the market rout is over.
The S&P 500 regional banks index rebounded 1.4 per cent, leaving it with a 26 per cent loss over the past five sessions. First Republic Bank surged 27 per cent, while KeyCorp jumped over 7 per cent. Among large US banks ― where sources say customers have moved deposits to over the past week ― Citigroup regained almost 6 per cent and Wells Fargo added 4.6 per cent.
"If we do not see any high-profile failures in the near future, then the fears would subside," said Jack Ablin, chief investment officer at Cresset Capital.
Hedge fund Citadel helped send a signal of confidence in the sector by buying a 5.3 per cent stake in Western Alliance Bancorporation, which was among lenders swept up in contagion fears.
There were other signs of a change in mood. Anson Funds, which manages US$1.6 billion (RM7 billion), bought an undisclosed number of shares of First Republic on Monday, associate portfolio manager Rob Mills told Reuters.
Rates rethink
A furious race to reprice interest rate expectations also buffeted markets as investors bet the US Federal Reserve will be reluctant to hike next week.
Traders currently see a 77 per cent chance of a 25 basis-point increase at the meeting, while expectations for no rate hike have fallen to 23 per cent. Early last week, a 25 basis-point hike was fully priced in, with a 70 per cent chance seen of 50 basis points.
"Part of the stabilisation today is folks feeling as if the Fed might back off from some of the hawkish expectations," said Matthew Keator, managing partner at wealth management firm Keator Group. "If the Fed isn't careful, they could create some unintended shocks to the system."
US Treasury yields rose yesterday, a day after major declines, as investors consolidated positions and weighed the monetary policy impact of banking system turmoil against stubbornly high inflation.
To be sure, analysts say uncertainty remains in the financial sector. Investors worry about the health of smaller banks, the prospect of tighter regulation and authorities' preference for protecting depositors before shareholders.
In the US, Senate Banking Committee Chairman Sherrod Brown urged Congress to enact regulations to strengthen stress tests and capital and liquidity standards for banks, and said he hoped the Fed would not raise rates when it meets next.
Investigations
As markets adjusted to the impact of SVB's collapse, regulars turned their focus to the circumstances around the bank's collapse. The Justice Department investigation is in early stages and may not result in allegations of wrongdoing or charges being filed, a source said.
Officials are also examining stock sales by officers of SVB Financial Group, which owned the bank, the WSJ reported, citing people familiar with the matter.
Spokespeople for the SEC, SVB and the Justice Department declined to comment.
New York's financial regulator said its decision to close Signature Bank had "nothing to do with crypto" and instead cited "a significant crisis of confidence in the bank's leadership" after SVB's demise.
Signature and three former top executives were also sued yesterday by shareholders who accused the bank of fraudulently claiming it was financially strong a mere three days before it was seized by a state regulator. Signature did not immediately respond to requests for comment.
Apollo Global Management Inc, Blackstone Inc, and KKR & Co Inc have expressed interest in a book of loans held by SVB, Bloomberg News reported yesterday, citing people familiar with the matter.
The portfolio is seen as an attractive buy and was not a contributing factor in run that caused SVB's demise, it added.
Buyout giants Ares Management and Carlyle Group are also looking to buy the loan book, the Financial Times reported, citing people familiar with the matter. ― Reuters