 NEW DELHI: Loan EMIs are set to rise, with the Reserve Bank of India on Friday hiking key repo rate by 50basis points (bps) to 5.4 per cent in a bid to tame inflation in the country and support growth.
This the third straight hike by the central bank in four months and is expected to raise borrowing costs for corporates and individuals. The marginal spending facility rate and the bank rate has been revised to 5.65 per cent.
Amid the rising inflationary pressure in India, the RBI increased its policy repo rate by 40% basis points in May followed by another hike of 50 basis points in June. The policy repo rate currently stands at 5.4%.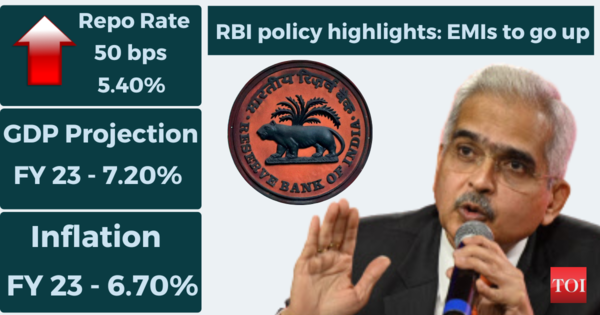 With this 50 bps increase to 5.40, the total hike so far in 2022 stands at 140 bps, which is more than the total cut of 115 bps passed in 2020. These hikes will gradually withdraw the liquidity pumped into the market in 2020 and play its part in taming inflation, which has remained above the RBI's upper tolerance level for several months now.
The RBI is mandated to ensure that CPI-based inflation remains at 4 per cent with a margin of 2 per cent on either side.
Opinion: Why a tightening monetary policy may not be effective?
All six members of the Monetary Policy Committee (MPC), headed by RBI governor Shaktikanta Das, unanimously voted for the latest rate hike. ""MPC decided to focus on withdrawal of accommodation to keep inflation within target while supporting growth," said Das.
The global geopolitical situation and the elevated commodity prices indicate that inflation will likely remain above the upper tolerance level of 6 per cent through the first three quarters of 2022-23. Twice in the past, the repo rates have been hiked. The third hike implies costly home and personal loans. Parents servicing education loans for their children will also feel the pinch of higher interest rates. Also, your car and two-wheeler loans are going to become expensive in the future.
The RBI's action automatically pushes up the cost of mortgages as over 90% of bank home loans are linked to the repo rate. While deposit rates will also rise, the increase is expected to be slower as the banking system is still flush with the pandemic stimulus. The bad news for borrowers is that this is not the last of RBI's rate increases. Crisil expects RBI to hike rates by another 25 basis points this fiscal year – a view echoed by most economists. This would mean that by the end of March, interest rates will be half a percentage point above the pre-pandemic level. RBI had slashed the repo rate in March, 2020 to cushion the impact of Covid-induced lockdown, and maintained status-quo in the benchmark interest rate for almost two years before increasing it on May 4, 2022.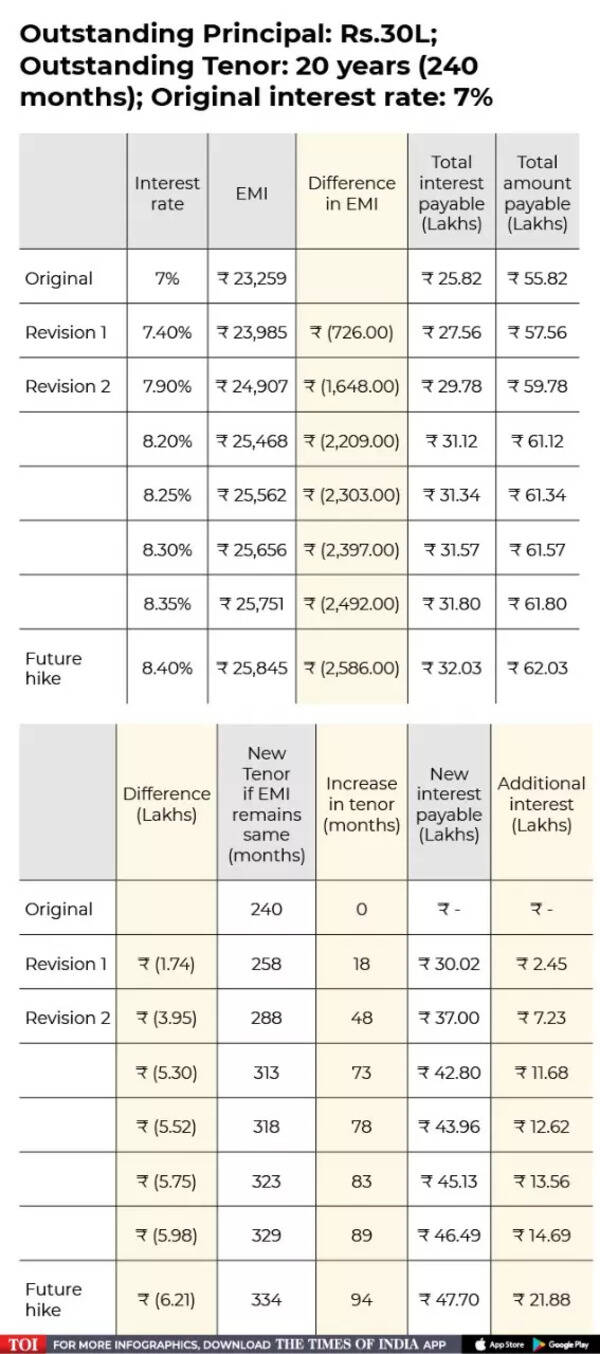 What does this mean for borrowers?
"Existing borrowers on floating rate loans would see their loan tenors increase with this hike. One of the ways through which you can evaluate your loan rate is by checking the premium you are paying above the repo rate. If you are a prime borrower (credit score over 750, stable income, loan payments on time), you can get home loan offers at a premium of around 250-275 basis points over the repo rate. The premium varies from lender to lender, so the range could be lower or higher depending on who you are and whom you are borrowing from," said Adhil Shetty, CEO, Bankbazaar.com.
For example, if the repo rate is 5.40 per cent, the lowest rate you can get right now may be around the 7.90 to 8.15 per cent range.
If you are paying higher despite having a good credit score, you may want to speak to your lender about it and refinance your loan to a lower rate.
If you do not wish to refinance, you may want to pre-pay regularly to soften the blow of increasing tenors.
You could also voluntarily opt to pay higher EMIs which also acts as a pre-payment.
"In inflationary times such as this, it's advisable to be proactive with your loan payments and pre-pay in some form regularly to minimise the rising interest. This is especially critical for new borrowers who've borrowed at rock-bottom rates of 6.50 to 7.50 per cent in recent years. These repo hikes may increase their loan tenors substantially and interfere with other financial plans such as retirement. New borrowers may be hesitant to take on a new loan now. But the decision to borrow or not to borrow boils down to their individual readiness," said Shetty.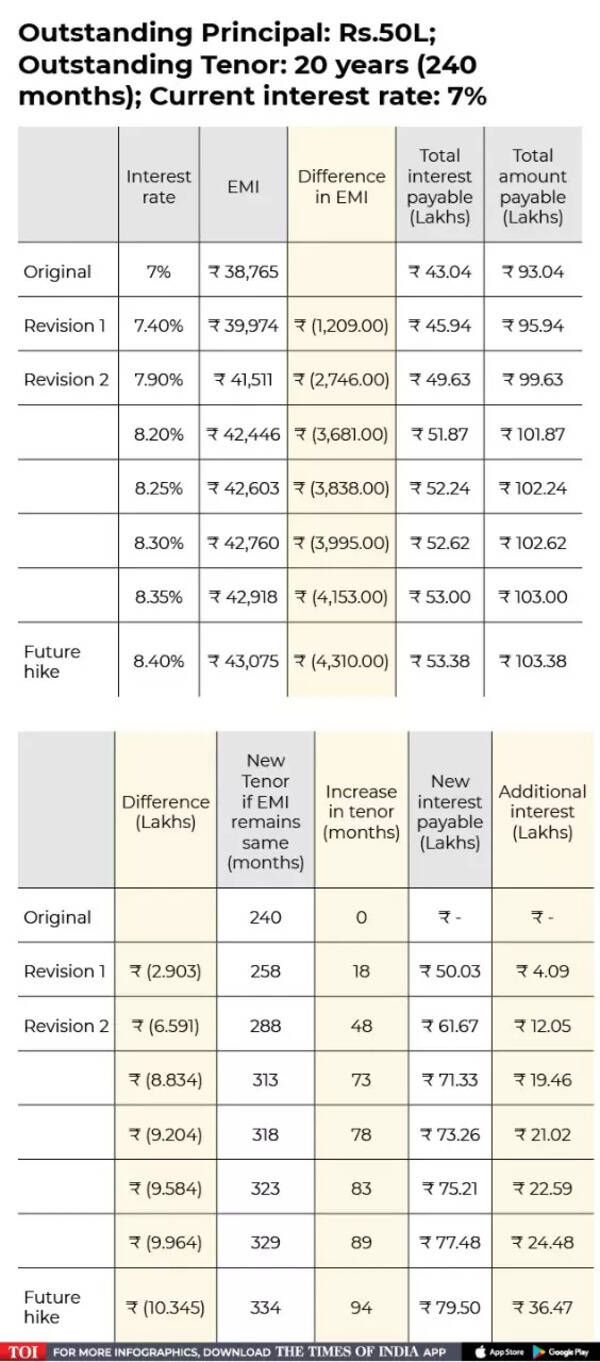 Moderate impact on home sales:
"A rate hike was expected, but the expectation was for a maximum of 35 bps. The hike by 50 bps is definitely on the higher side, and home loan lending rates will now edge further into the red zone. This is the third consecutive rate hike in the last two months and finally marks the end of the all-time best low-interest rates regime – one of the major factors that drove housing sales across the country since the pandemic. This whammy comes along with the inflationary trends of primary raw materials, including cement, steel, labour, etc.,have recently led to a rise in property prices. Together, these factors – rising home loan rates and construction costs – will impact residential sales that did reasonably well in the first half of 2022," said Anuj Puri, Chairman – ANAROCK Group.
"The impact of rate hike will be predominantly on the affordable housing side, which is primarily driven by sentiments and especially first-time home buyers who are heavily reliant on home loans. This decision will not make much difference in the luxury segment as the demand of home buyers in this segment is beyond these considerations," said Lincoln Bennet Rodrigues, Chairman & Founder, The Bennet and Bernard Company, known for luxury holiday homes in Goa.
The rate hike is a non-event for markets
"RBI's MPC decision to hike the repo rate by 50 basis points is in line with the market expectations, thus remaining a non-event," said Santosh Meena, Head of Research, Swastika Investmart Ltd.
"On the liquidity front, the continuation of gradual withdrawal indicated by the RBI is a step in the right direction to bring about normalization and ease pressure on price rise. The assurance by the RBI governor to provide the requisite backing for ensuring stability in Indian Rupee is also a welcome announcement. On the whole, the 'whatever it takes' approach by the RBI augurs well for the growth and stability of the Indian economy, while putting an immediate check on inflation," said Jyoti Prakash Gadia, Managing Director, Resurgent India.
In June policy, RBI decided to remain focused on the withdrawal of accommodation to ensure that inflation remains within the target going forward while supporting growth. During June 2022 policy, RBI projected inflation at 6.7% in 2022-23, with Q1 at 7.5%; Q2 at 7.4%; Q3 at 6.2%; and Q4 at 5.8%, with risks evenly balanced.
India's consumer price index (CPI) inflation stood at 7.01% in June 2022 which slightly moderated from 7.01% in May. This year, in April, Inflation peaked at 7.79%.
Point to note: inflation has stayed above RBI's upper limit of 6% for the sixth consecutive month.
Watch Loan EMIs to go up after RBI hikes rates by 50 basis points to 5.4%