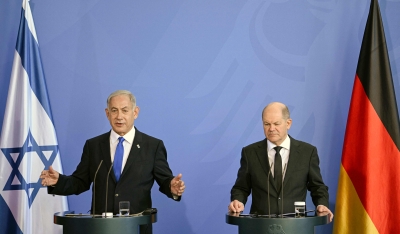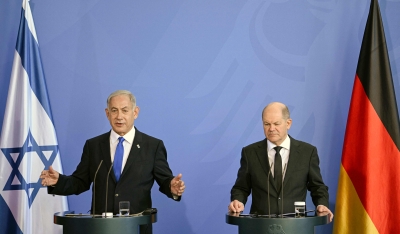 BERLIN, March 17 — Israeli Prime Minister Benjamin Netanyahu on Thursday fiercely defended disputed legal reforms on a visit to Berlin, where German Chancellor Olaf Scholz urged him to reconsider a compromise.
The package of judicial reforms has sparked weeks of protests in Israel since its introduction by Netanyahu's hard-right coalition, prompting Israel's president to warn the nation may be on the brink of "civil war".
Scholz admitted he was watching the debate unfold in Israel "with great concern" and said that "as Israel's friend, we hope that the last word has not been spoken" on President Isaac Herzog's proposals for compromise.
Herzog, who holds a largely ceremonial role, on Wednesday presented compromise plans — swiftly rejected by Netanyahu who said they would "only perpetuate the existing situation and do not bring the required balance between the powers".
In Berlin, Netanyahu put on a defiant front, arguing his plans merely sought to bring Israel's democracy "in line with what is common and acceptable in just about every Western democracy".
He also hit out at "slanders and falsifications" against his own and his coalition's intentions.
"Israel is being constantly… maligned. I'm supposed to be some… potentate who's abolishing democracy and all this nonsense," he charged at a press conference, standing next to Scholz, adding, "this is absurd, it's preposterous".
But following a separate meeting with German President Frank-Walter Steinmeier, Netanyahu took on a more conciliatory tone.
Referring to nationwide demonstrations that have persisted over 10 weeks, the Israeli premier told journalists he was "attentive to what's happening in the country".
The coalition has proposed a two-stage process to a key element in the reform — "an immediate fix and then balancing things out", he said, adding however that president Herzog had "discarded" the offer.
'Civil war' threat
Netanyahu's coalition, which includes ultra-Orthodox and extreme-right parties, says the reforms are needed to limit judicial overreach, but protesters say they threaten Israel's liberal democracy by weakening key checks and balances.
With the strife far from easing, Herzog warned late Wednesday that "anyone who thinks that a genuine civil war, with human lives, is a line that we could never reach, has no idea what he is talking about.
"It is precisely now, in the State of Israel's 75th year of independence, that the abyss is within touching distance. Today, I say to you what I told them: Civil war is a red line.
"I will not allow it to happen," he said, adding he was convinced the majority of Israelis want a compromise.
The changes proposed by the coalition would allow lawmakers to override Supreme Court decisions that strike down legislation with a parliamentary majority, and then deny the court the right to review such a move.
It would also make it harder for the Supreme Court to strike down legislation it deems to contravene Basic Laws, Israel's quasi constitution.
Israeli protesters returned to the streets on Thursday, with some holding up placards saying the reforms spelled "the end of democracy".
In Berlin, several hundred protesters also turned out at the Brandenburg Gate, a short distance from the chancellery where Netanyahu and Scholz held talks.
Among them was Israeli Oren Goldberg, 44, who had travelled from the Netherlands to Berlin to demonstrate.
"I'm here to give a big welcome to the want to be dictator in Israel, to show him we won't accept it," he told AFP.
'Normal guest'
The controversy in Israel puts Germany in an uncomfortable position.
The two nations forged strong diplomatic ties in the decades after World War II, with Berlin committed to the preservation of the Israeli state in penance for the Holocaust.
Successive German governments have described Israel's national security as a crucial foreign policy priority.
But in carefully worded statements, German leaders have voiced their worries over the legislative overhaul.
On Wednesday, Steinmeier said he planned to raise the issue with Netanyahu.
Israel is the "only democracy in the whole region, a country with a strong constitutional state", he said. "What I would like to see is that what we have admired about Israel… is preserved."
The German presidency did not release a statement following the meeting.
But a senior Israeli official said the discussion mainly focused on Russia, with Steinmeier urging Netanyahu to use his ties with Vladimir Putin to help end the war in Ukraine.
Netanyahu was sceptical, noting that interests trump personal ties, but stressed he would do anything he could to stop the carnage in Ukraine, the official added. — AFP