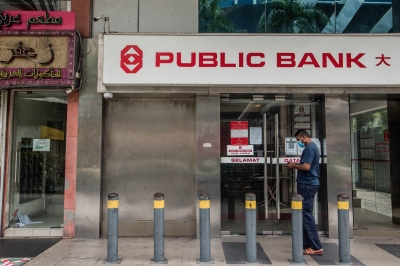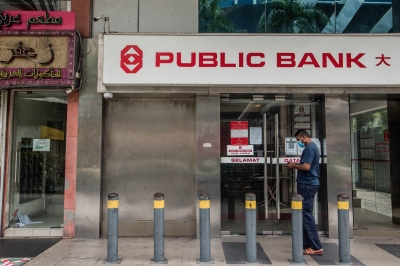 KUALA LUMPUR, May 25 — Public Bank Bhd's net profit rose to RM1.71 billion in the first quarter ended March 31, 2023 (1Q FY2023) from RM1.40 billion in the same period last year in the absence of prosperity tax.
In a filing with Bursa Malaysia today, Public Bank said the better performance in 1Q FY2023 was also driven by net interest income and income from Islamic banking business which increased RM149.9 million (or six per cent), which were attributable to the positive effect of the overnight policy rate (OPR) hikes and loans growth achieved over the last 12 months.
Revenue jumped to RM6.12 billion from RM4.89 billion previously.
In a separate statement, Public Bank managing director and chief executive officer Tan Sri Tay Ah Lek said the group had demonstrated resilience in its 1Q FY2023 performance, mainly supported by commendable net interest income growth and lower loan impairment allowances.
According to the statement, the bank's net interest income increased 7.4 per cent during the quarter under review, mainly led by healthy loans and deposits growth, which expanded at an annualised growth rate of five per cent and 9.1 per cent, respectively.
Meanwhile, Public Bank said it remained stable with a low gross impaired loans ratio of 0.5 per cent.
"Loan impairment allowances were lower by 98.5 per cent to RM1.5 million from RM99.7 million in the corresponding quarter of 2022," it said.
On its loans and deposits businesses, Public Bank said it maintained a healthy loan growth momentum at an annualised growth rate of five per cent to RM381.6 billion in 1Q FY2023, largely supported by the domestic loan portfolios, which grew by 5.4 per cent per annum (p.a) to RM356.8 billion.
It said domestic loan growth was mainly contributed by residential properties financing, which grew at 6.1 per cent per annum (p.a), hire purchase financing (up 11.5 per cent p.a) and small and medium-sized enterprise (SME) financing (up 2.7 per cent p.a).
Public Bank said non-interest income performance increased 0.7 per cent in 1Q FY2023 from the same period last year, mainly contributed by its wholly-owned subsidiary, Public Mutual, which recorded a pre-tax profit of RM192.6 million in the current quarter, contributing 8.7 per cent to the group's profit.
"With total assets under management of RM94.4 billion and 179 unit trust funds being managed, Public Mutual continued to capture a large retail market share of 35.7 per cent as at the end of March 2023," it said.
On its overseas operations, Public Bank said the segment contributed 8.1 per cent to the group's profit in 1Q FY2023, mainly attributed to its Hong Kong and Indochina operations.
Touching on its capital and liquidity position, Public Bank said that as at end-March 2023, the group remained well capitalised, with common equity Tier 1 capital ratio stood at 14.6 per cent, Tier 1 capital ratio at 14.7 per cent and total capital at 17.7 per cent, while its liquidity coverage ratio also remained stable and healthy at 137.1 per cent.
On prospects, the bank said Malaysia, as an open economy, is expected to continue facing headwinds caused by the heightened volatility in the financial markets and banking sectors from the United States and Europe, which is likely to further exert downward pressure on the global economy.
Nevertheless, Public Bank said firm domestic demand underpinned by an improved employment market, multi-year investment projects, the government's policy measures and recovery in China's economy would continue to support the Malaysian economy on a positive growth trajectory, providing a stable and conducive business environment for banking business growth.
"The group will remain focused on cost discipline, preservation of sound asset quality and upholding strong corporate governance to safeguard its resilience against adversity," said Tay. — Bernama