 MUMBAI: More pointers are coming from the Reserve Bank of India on the likelihood of another rate hike early next month when the monetary policy committee hold its bi-monthly meeting to decide on rates.
The state of the economy report published by the Reserve Bank of India has said that consumer price inflation remains high and core inflation continues to defy the distinct softening of input costs.
The report authored by RBI deputy governor Michael Patra and other RBI staff said that unlike the global economy, India would not slow down – it would maintain the pace of expansion achieved in 2022-23. Confidence in growth is likely to encourage the MPC to raise rates.
Most analysts are holding back on their forecasts and waiting to see what action the US Federal Reserve takes on Wednesday. A pause in rate hikes would be good for the Indian economy. This will prompt global funds to invest in India. Following the failure of the Silicon Valley Bank, there is fear that other small banks may suffer from a crisis of confidence. Given the risks to financial stability in the US, most analysts are now expecting only a 25 basis points hike, if at all, by the Fed as against 50 basis points expected last month.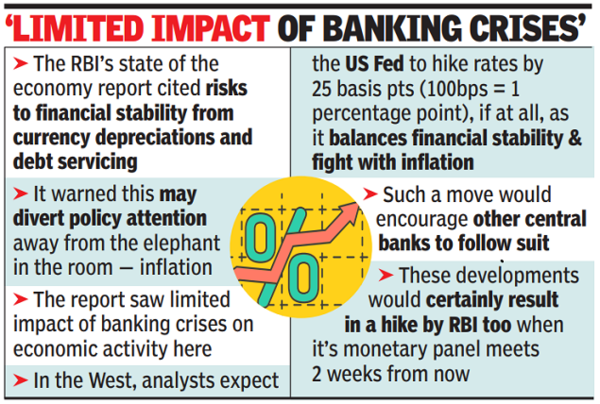 A rate hike would prompt other central banks, including the RBI, to raise rates. "India has emerged from the pandemic years stronger than initially thought, with a steady gathering of momentum since the second quarter of the current financial year," the report said.
While RBI governor Shaktikanta Das has said that the worst of inflation is behind us, the report speaks of a long road ahead. "Emerging market economies were first off in the battle against inflation, and in many of them, it has begun to be brought down, but the beast is not vanquished yet. Risks to financial stability from currency depreciations and debt servicing may divert policy attention away from the elephant in the room," the report said.
According to the report, the bank collapses in the US in the first of March 2023 are rippling through the global financial markets. "While the direct impact of this meltdown on economic activity could be limited as it would appear at present, markets are bracing up for tighter financial conditions which could present a trade-off between financial stability concerns and the conduct of disinflationary monetary policy.
"Fear is creeping back; after remaining tepid for months, the VIX – Wall Street's fear gauge – surged by 17.7 per cent by March 17 over its level at the end of December 2022. Yield curves are in deep inversion and the future looks darker than it did just a few weeks ago in early February, the report said.
According to the report, the economy's resilience is not properly captured in macro numbers because of the base effects of the economy. However, the numbers suggest that "private consumption may edge down further, going by high-frequency indicators, including and perhaps mainly due to elevated inflation."