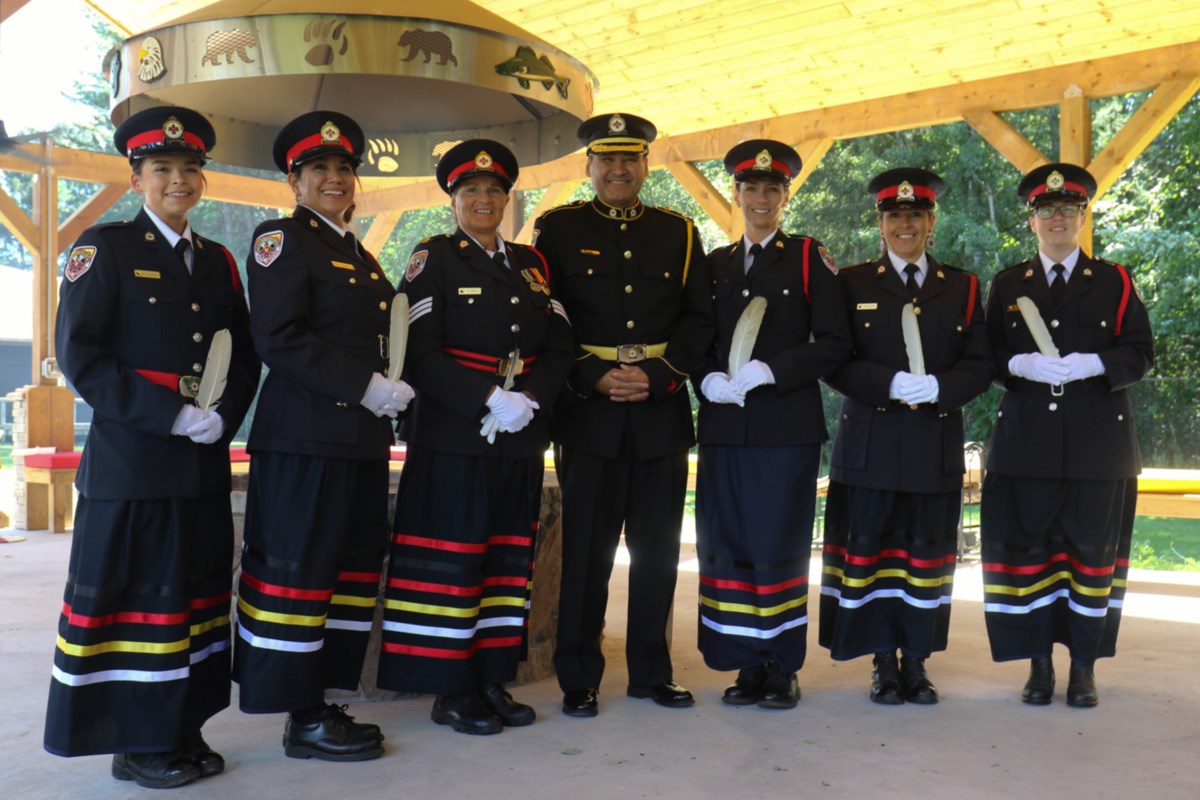 The Anishinabek Police Service is now the first law enforcement agency in Ontario to incorporate traditional ribbon skirts into its standard police uniform for events and ceremonies where a police-issued duty belt isn't required.
A ceremony was held at the police service's headquarters in Garden River First Nation Wednesday to present officers with ribbon skirts handcrafted by Sault Ste. Marie Indian Friendship Centre Executive Director Cathy Syrette.
"It's a special day for them to honour them, especially for the work that they do for our people in our communities," said recently appointed Anishinabek Police Service Chief Jefferey Skye.
The idea to present ribbon skirts to all 12 female officers at the First Nations police service belongs to Sgt. Karen Bell, whose career in policing spans more than three decades. She tells SooToday that she consulted with a number of police services across Canada about the ribbon skirt, including Blood Tribe Police Service in Alberta, which had already made the ribbon skirt part of its standard uniform.
"It's been a long-time vision that I had as a long-serving female member working in an Indigenous community, and I felt that we had to somehow recognize and honour all of them women that sacrifice all of themselves and give up a lot of their holidays. They have children while they're policing. They miss ceremonies, they miss graduations, they miss birthdays — all of these things that we as women and mothers of children that are back home," said Bell.
"We sacrifice and we know that we were meant to be where we are in our careers, and we chose to make those career moves and those changes and become police officers, and being unique in the fact that we can see our children playing in the communities that we police and being role models for not only our young women, but also our children."
Garden River First Nation Elder and Anishinabek Nation Language Commissioner Barbara Nolan provided teachings to those gathered at the ceremony regarding the importance of women and the ribbon skirt itself.
"That's the significance of the skirt, that we honour who we are as females. We honour ourselves for that," said Nolan. "That gift that we have, that life-giving gift that we have, we have to honour that."
Bell says that she felt a need to incorporate the ribbon skirt into the police service's standard uniform to "bring the culture back" while introducing the culture to some of the Indigenous female officers that may have not grown up with it.
"It provides some good teachings and some of the things that our elders spoke of, being a survivor of residential schools and seeing some of the trauma that we have to see as police officers," Bell said. "We have to take it from a different lens and a different platform saying that you know what, there are reasons why people are acting the way they are currently because of all of those reasons, of the residential schools in particular and the trauma our forefathers went through."
The Anishinabek Police Service has 16 detachments in First Nations across Ontario.