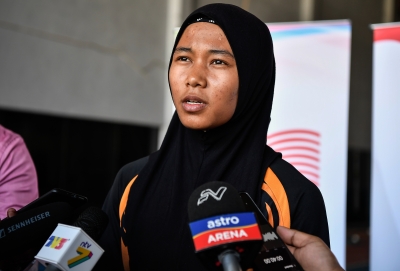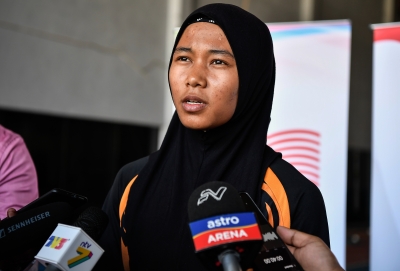 KUALA LUMPUR, March 16 — Hanoi SEA Games women's pole vault gold medallist Nor Sarah Adi is ready to adapt to using a men's specification pole at the biennial games that will take place in Phnom Penh, Cambodia, this May.
The 22-year-old pole vaulter is optimistic that the mission to defend her gold medal can be accomplished with the new pole, after facing an unfortunate incident when her usual favourite pole 'went missing' just before going into action at the final event of the 2022 Malaysia Games (20th Sukma) in September last year (where she failed to clear all three attempts at the starting height of 2.90 metres).
"In my run-up to the 2023 SEA Games in Phnom Penh, I will focus on training with the new, longer and stronger pole that male athletes usually use.
"The (men's) pole measuring 4.45 metres (women's pole measures 4.3m) gives higher momentum and I have to adjust it to the speed (run-up velocity) and the way I take off but I am confident that I will be comfortable with it," she said in conjunction with the visit by deputy Chef-de-Mission Sharon Wee to the SEA Games training camp here yesterday.
According to Nor Sarah, she has not had the opportunity to fully test the new pole's capabilities and can only do so after returning from participation in the Taiwan International Indoor Championships scheduled for March 22-23.
Nor Sarah said that currently she was still getting advice and guidance from former head coach of athletics, Manshahar Abdul Jalil whose contract expired in February, pending the official announcement of Roslinda Samsu as the new coach.
"So long as I am able to connect with him (Manshahar) without any interference, that is enough," she clarified.
In May last year, Nor Sarah created a surprise by winning the SEA Games gold medal in Hanoi (as a 4x100m relay sprinter she was a surprise entry for the pole vault), ending Malaysia's 11-year gold drought after recording a personal best jump of 4.00m to beat Thailand's Chonticha Khabut who cleared 3.80m and Alyana Martinez from the Philippines (3.60m).
Not stopping there, the pole vaulter from Pahang then helped the women's 4x100m quartet to sprint to a bronze medal with S. Komalam Shally, Zaidatul Husniah Zulkifli and Azreen Nabila Alias. — Bernama