 NEW DELHI: RBI governor Shaktikanta Das said on Wednesday that war on inflation is not over and authorities need to keep a close watch although there are signs of inflation moderating.
"The war on inflation is not over. We have to remain alert and there is no cause for complacency. We will have to see how El Nino plays out," Das said in his speech at the Confederation of Indian Industry (CII) annual session 2023, as he flagged risks emanating from the likely weather phenomenon.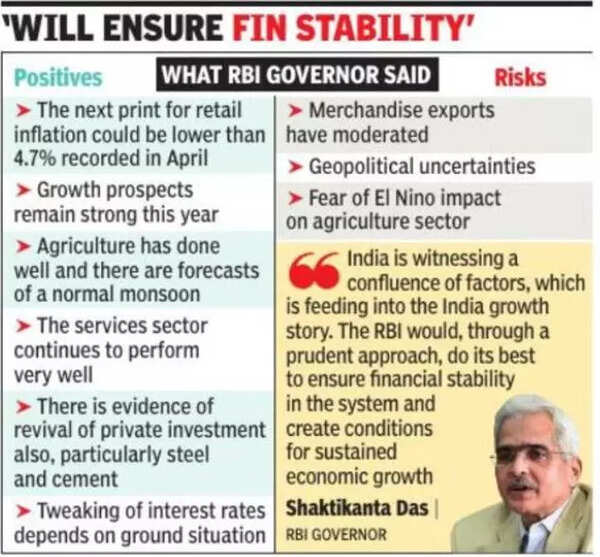 Das said it won't be a surprise if last year's GDP growth is above the estimated 7% as several indicators had shown robust expansion.
The RBI governor also said that the next print for retail inflation, which is due later next month, could be lower than the 4.7% recorded in April. Retail inflation moderated to an 18-month low in April on the back of a favourable base effect and softening in some food prices, bringing much-needed relief from stubborn price pressures.
Das said the tweaking of interest rates depends on the ground situation and reiterated his statement that "it is a pause and not a pivot", referring to the decision to hold interest rates in the last monetary policy committee meeting and assess the impact of the previous interest rate increases. In its April meeting, the central bank decided to pause its rate hikes, citing "unprecedented uncertainty in geopolitics, economic activity, price pressures and financial markets".
The RBI governor said growth prospects this year remain strong and derived confidence at this point of time from the fact agriculture has done well and there are forecasts of a normal monsoon. He said the services sector continues to perform very well while merchandise exports have moderated.
He said the capex and the infrastructure spending by the government has also picked up and large provisions have been made in the Budget for capital expenditure by the government. "There are downside risks, which are known to all of us: geopolitical uncertainties, any surprises on the geopolitical front and the drag from merchandise exports because world trade seems to be contracting," said Das. He also identified the risk to agriculture from El Nino effect.