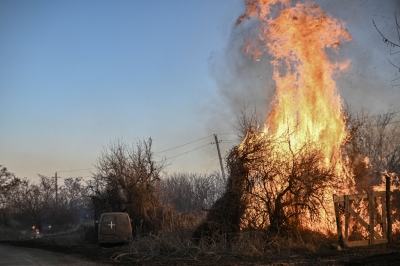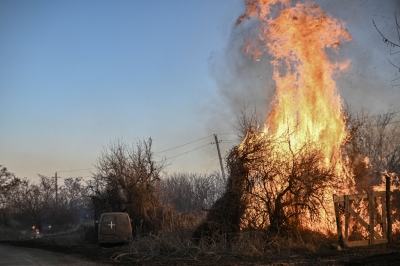 CHASIV YAR (Ukraine), March 15 — White phosphorus munitions were fired yesterday from Russian positions on an uninhabited area by the town of Chasiv Yar in eastern Ukraine, AFP journalists saw.
Two projectiles were fired five minutes apart at around 4.45 pm (10.45pm Malaysian time) on a road at the southern edge of Chasiv Yar leading to nearby Bakhmut, the centre of the longest and bloodiest battle of Russia's year-long invasion.
The whistling sound from the projectiles was followed by explosions caused by munitions that released small, burning balls of white phosphorus that slowly fell to the ground.
The balls set fire to the vegetation on both sides of the road on a surface equivalent to the size of a football pitch.
AFP was not able to confirm if the targeted site was a position held by Ukrainian forces, but a green truck with a white cross, a sign of Ukraine's army, was parked by a path in the burned area.
The nearest homes were around 200 metres away from the outer edge of the affected land.
Weapons containing phosphorus are incendiary arms whose use against civilians is banned, but they can be deployed against military targets under a 1980 convention signed in Geneva.
Kyiv has accused Moscow of using them on several occasions since the start of the war, including against civilians, which the Russian army has denied categorically. — AFP