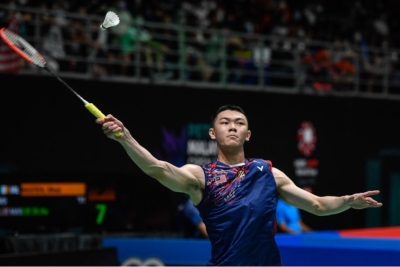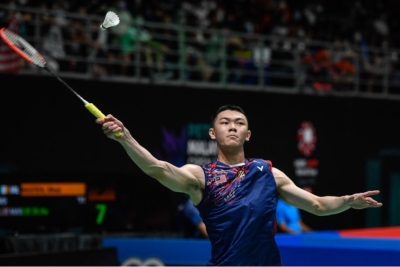 KUALA LUMPUR, May 25 ― There's no big deal over Wong Tat Meng's appointment as his new coach, said national men's singles professional shuttler Lee Zii Jia.
Zii Jia said what was more important was the fact that Tat Meng is a local coach that has what it takes to help the current world number 10 chase the elusive Olympic gold dream for the nation in Paris 2024.
"I don't think it's a big issue, let's move on and try to be positive because finally I have a coach.
"As Malaysians we should be happy about it and my coach is also a local, so let's help each other to chase the Olympic dream…Hopefully, he can bring me to one step higher," he told reporters when met at the Malaysia Masters 2023, here.
The 25-year-old player was responding to a social media post by Hong Kong's number one men's singles shuttler, Angus Ng Ka Long, who vented out his frustration that the departure of Tat Meng from his team had put them in an awkward position as they are gearing up for the upcoming Asian Games, to be held in Hangzhou, China from September 23 to October 8.
Zii Jia also said the appointment of Tat Meng was done according to law, adding that all efforts to strike a deal with the 55-year-old coach started when he went to Hong Kong for a short training stint with their men's singles squad last April.
Asked on why Tat Meng as 'the chosen one', the Kedahan said the former South Korea national team coach had a vast experience overseas including guiding South Korea to clinch the 2022 edition of the Uber Cup and moulding 21-year-old and world number two An Se Young as one of the top women's singles shuttlers at the moment.
In the meantime, the former Asian champion said he expected Tat Meng to join his team after the Indonesia Open 2023, which is slated to take place in Jakarta from June 13 to 18.
Apart from Hong Kong and South Korea, Tat Meng had served for the Badminton Association of Malaysia from 2003 to 2011 and 2013 to 2016 as well as Indonesia in 2012 and Scotland from 2016 to 2018.
In Malaysia, Tat Meng oversaw the rise of former national women's singles Wong Mew Choo when she claimed the China Open 2007.
Last Tuesday, Team LZJ on a social media post announced that Tat Meng's immediate task will be to tailor a programme that will help Zii Jia achieve consistent performances, move up the world rankings, and qualify for the 2024 Olympic Games.
Zii Jia has been playing without a full-time coach since parting ways with his former trainer Indra Wijaya of Indonesia late last year.
When met by Bernama, Ka Long, on the other hand, refused to comment further on Tat Meng's resignation from the Hong Kong Badminton Association and only wished the latter good luck on his future endeavours with Zii Jia. ― Bernama